Geo-Seal®: Over 10 years of proven performance for Contaminant vapor intrusion protection.
Geo-Seal® is EPRO's innovative sub-slab vapor intrusion barrier system designed to eliminate vapor intrusion for brownfields or any environmentally-impaired site.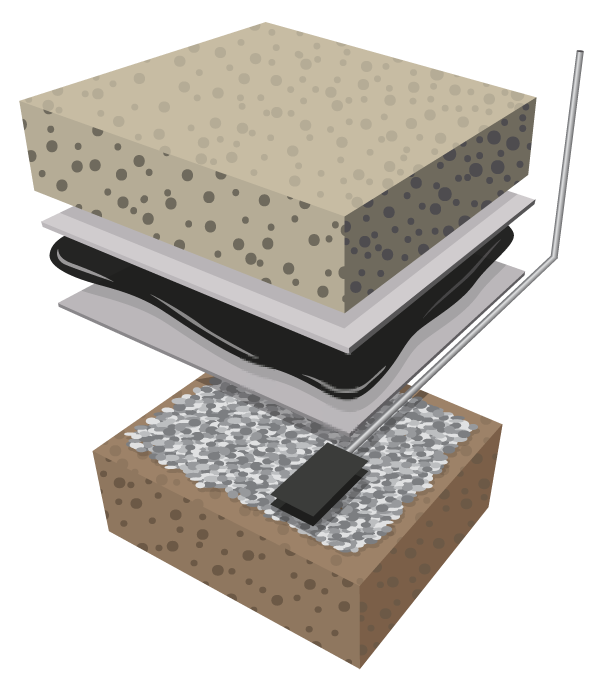 Installed between the foundation slab of the building and the soil pad, triple-layered Geo-Seal eliminates vapor intrusion pathways and stops contaminant vapors from permeating through the slab and into a building.
Fully tested and proven highly effective against VOC vapor such as chlorinated solvents and petroleum hydrocarbons, as well as methane gas, Geo-Seal earns wide approval among various regulatory agencies across the country.
With over 10 years proven success and well in excess of 50 million square feet of products installed, Geo-Seal provides owners and developers peace of mind knowing that a healthy indoor environment will keep occupants safe while also significantly reducing remediation costs and speeding site construction.
---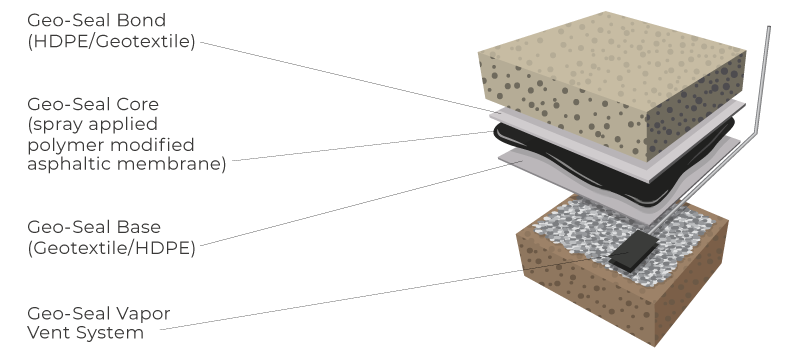 ---
Geo-Seal Base
Geo-Seal BASE is a geocomposite base layer. It installs with the geotextile surface facing down and the gray HDPE layer facing the installer. Geo-Seal CORE is applied directly to the HDPE side of BASE. BASE provides the ultimate substrate and enables the CORE layer to be free of shadowing and pinholes.
Geo-Seal Core
Geo-Seal CORE, a 60 mil membrane, is sprayed applied to BASE, sealing around penetrations and BASE seams.
Geo-Seal Bond
A protection layer, Geo-Seal BOND is placed over the Geo-Seal uncured CORE layer to enhance the curing of CORE provide addition vapor intrusion protection and for increased puncture resistance.
Geo-Seal Vapor-Vent™
Low profile Geo-Seal Vapor-Vent soil gas collection system eliminates the need for trenching, is more cost-effective than pipe and gravel systems, and helps speed installation of the Geo-Seal system. Incorporating Vapor-Vent provides maximum protection against contaminated vapor and eliminates long-term costs when configured as a passive system.
Geo-Seal Resource Library
Geo-Seal: Triple-Layered Composite Construction for Unmatched Protection
Geo-Seal provides a perfect blend of constructibility and chemical resistance owing to its triple-layered composite design.
Dual Chemical Resistant Layers
The Geo-Seal Base and Bond layers are composed of a high-density polyethylene (HDPE) material bonded to a geotextile. HDPE is renowned for its chemical resistance, high tensile strength, excellent stress-crack resistance, and its highly reliable subsurface containment longevity.
Sealed to Perfection
The Geo-Seal Core layer is composed of a unique, elastic co-polymer modified asphaltic (PMA) membrane called e-spray and provides additional protection against vapor transmission. This layer creates a highly-effective seal around slab penetrations and eliminates the need for mechanical fastening at termination points, but also helps increase the overall tensile strength of the system. .
Geo-Seal Base and Bond, combined with Geo-Seal Core membrane, form a barrier resistant to the most concentrated chemical pollutant vapors.
Construction Friendly
The reduced curing time of Geo-Seal Core and the ability to apply it in cooler temperatures ensures quick installation of the system, minimizing impact on construction schedules.
Superior Puncture Resistance
Geo-Seal forms a highly puncture resistant barrier that greatly reduces the chance of damage occurring after installation and prior to the placement of concrete.
Vapor Removal
Geo-Seal Vapor-Vent soil gas collection system can be used in conjunction with Geo-Seal to alleviate the buildup of vapors beneath structures as a result of vapor barrier implementation. Vapor-Vent can be used as an active or passive ventilation system depending on the requirements of the design engineer.
Certified Applicator Network
The application of Geo-Seal and Vapor-Vent can be performed by any one of the Geo-Seal Certified applicators throughout the country.
Service and Support
EPRO representatives are available to provide job and site-specific assistance. A local representative can ensure Geo-Seal and Vapor-Vent is installed according to specification.